Why choose Kitemare Surf & Kite shop/SurfSUP Academy to teach you to surf?
We are based in the center of Westward Ho! right on the village green. The shop is only 30 meters from the sea. The shop looks over the whole beach and is surrounded by other shops, restaurants, bars and coffee shops. You can make your surf lessons into a nice day out, enjoying the village or better still, can make learning to surf the center of your holiday. We can advise on the best places to stay and eat within the village.
All instructors are trained, certified, experienced and more importantly passionate about surfing. They all hold current beach lifeguard qualifications and are active within the local surfing community. Our aim is to make sure you have the best possible time while making memories in a safe but fun environment.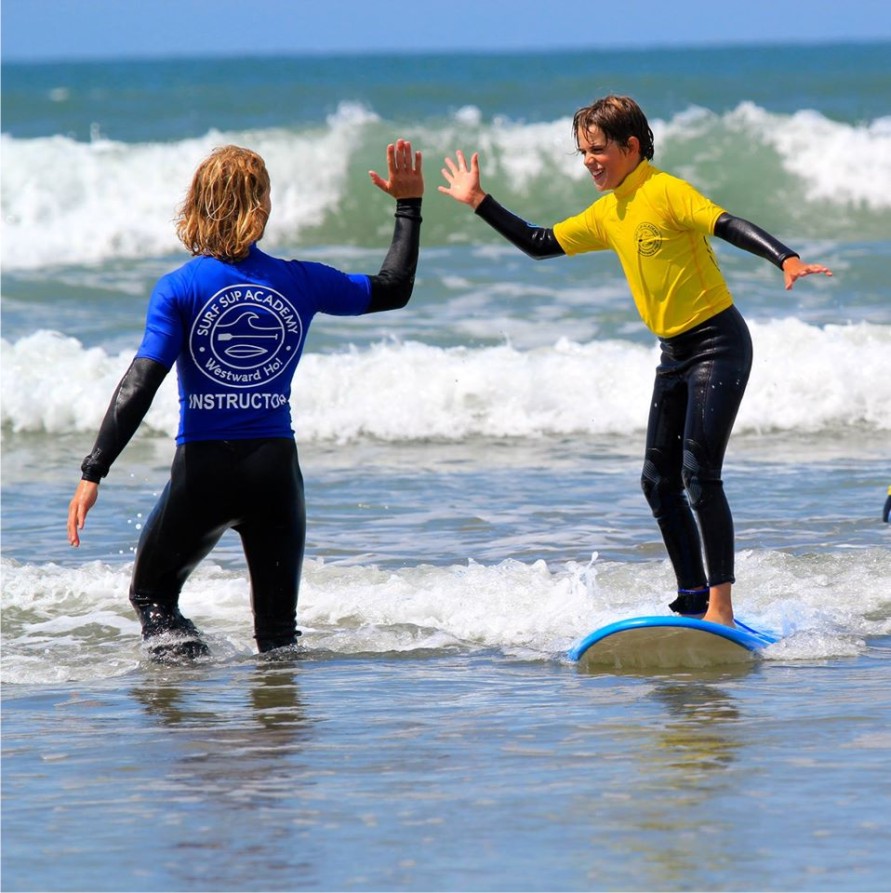 Westward Ho! is about two miles of sandy beach with very few rip tides and obstacles to worry about. The waves are perfect to get to grips with the sport as they roll in gently, reforming as they go, giving a slightly less powerful wave. Once you get better you can go out further therefore increasing the power. Once you get good there are some awesome spots in the area. Westward Ho! can cater for the absolute beginner to seasoned pro.

All of our lessons are 2hrs long. We find this is the optimum length of time so you don't get too tired or cold and enjoy the whole learning experience.
The day starts at the shop where we meet you and introduce you to your instructor for the session. You are issued with a wetsuit and get changed in our changing rooms, all clothes are left safely with us. You will then receive a basic briefing on surf board safety and be issued a board. The first part of the lesson is on the village green where you learn about the conditions, safety and what to expect in the water. It is then off to the sea to get you up and riding plus implant a smile on your face that can last for days!
The whole lesson lasts 2 hours and after this you will be tired, happy and ready to take on anything!
Please note:-If there is no surf or the conditions are too wild to be safe we will not run the lesson. In this event we re book your lesson or refund your money.

Well done, you are about to embark on a wonderful journey with us.
To find out about lesson times or to book your space with us please either ring the shop on (01237) 238350 or SurfSUP Academy on (07518) 761735, alternatively just pop into the shop and we can book you in or answer any questions you may have.
We also run Surf Development classes for the young ones, do birthday parties, stag/Hen groups, school groups and competition training.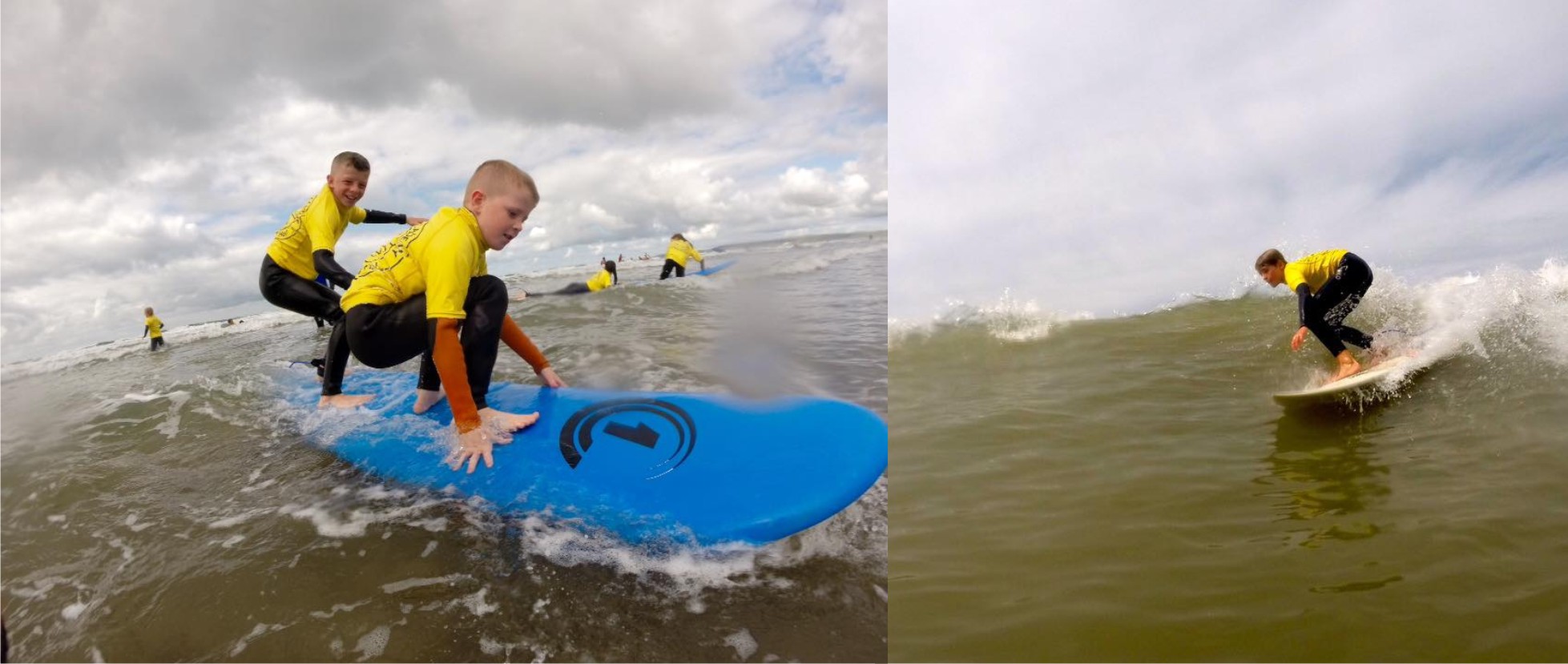 Prices for the surf lessons below include wetsuit, boots and surfboard. You get two hours of instruction and even in the groups, because we limit the numbers to eight, you are usually standing up. Cost of surf lessons with us are:-
1 x 2 hour group lesson (up to 8 people) = £30 (per person)
If you book more than one lesson we build in a multiple lesson discount. You book and pay for the lessons then just book them in with us when it's convenient for you. For more than one lesson with us it will cost you:-
2 x 2 hour group lesson = £55 (£27.50 per lesson)

3 x 2 hour group lesson = £75 (£25 per lesson)

4 x 2 hour group lesson = £90 (£22.50 per lesson)

5 x 2 hour group lesson = £100 (£20 per lesson)

6 x 2 hour group lesson = £100 (£16.50 per lesson)
If group lessons aren't your thing then we also offer private lessons. Private surf lesson for 2 hours (1 person) is £70. Each additional person is £20.